My Personal Profile
---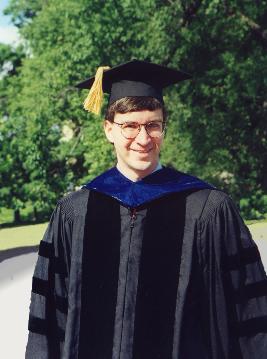 At JHU Commencement, May 27, 1999

---
About myself: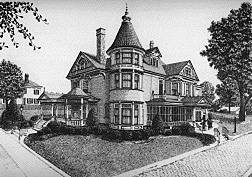 I was born in January, 1968 in the half-rural, half-suburban, sleepy little town of Smithfield, Virginia, which is south of the James River not too far from Norfolk and Virginia Beach. Most people within a several hundred mile radius know that Smithfield is where Smithfield hams come from. This is a fine distinction, unless you happen to live downwind from the packing plants.

Recently Smithfield has, much to my surprise, gone both touristy (trying to compete with nearby Colonial Williamsburg) and high-tech. Like everything else in the universe, it's on the web now. So you can check out Smithfield hams yourself. Also places like the seafood restaurant and inn Smithfield Station . The Hallwood Enterprises page on Smithfield web page features my pen-and-ink drawing of the Isle of Wight County Museum, adapted from an etching circa 1910 or so, when the building was the relatively new Bank of Smithfield.

Smithfield seems to be attempting to make itself into the antiques shopping mecca of southern Virginia. I don't know whether this is a good thing or not, though it certainly is a change from the Smithfield where I grew up. Another change is that Smithfield Foods has become a Fortune 500 company, which has certainly had its impact upon the town; in particular, CEO Joe Luter has practically razed the orginal Pagan River waterfront along Commerce Street (not that there was much of anything there worth preserving or even mentioning, within my lifetime) and replaced it with a huge brick corporate headquarters, town municiple government buildings, theater, fishing pier, etc. Oh, and hurricane Isabel had a particularly nasty impact on the area in 2003, removing a large number of trees, piers, and a number of entire houses as well.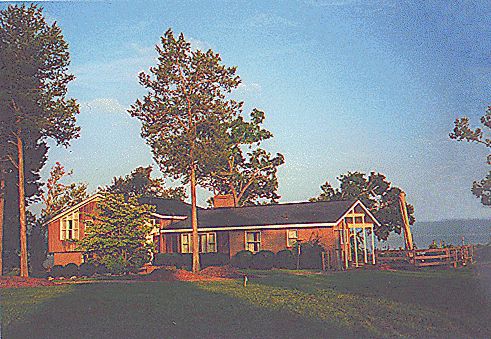 This is the house I grew up in.
The picture at left was taken in August, 1996. In late July, 1996, hurricane Bertha came directly overtop this house. Around 10:00pm at night, three hours or more before the eye of the storm passed overhead, the hurricane was preceded by a largish tornado which did a 30-second landscaping job on our yard, bringing down over a dozen ceder trees which ones formed an unbroken line from one end of the house to the other. Fortunately the house was scarcely damaged, also the Jeep which was outside and had trees lying all around it but suffered only a bent antenna and broken windshield wiper. My parents said that the whole house was ``humming'' when the tornado hit; my father was standing in the hallway near the front door and was rained on through the sealed windows because the glass was bowed under the wind pressure and water was being forced around the weatherstripping and into the house.

Hurricane Floyd in September, 1999, dumped over 15 inches of rain on the area and did heavy erosion damage to the cliff behind the house. Smithfield was better off than Franklin, Virginia, where my father works one day a week in district court, which was drowned under 12 feet of water, covering much of the downtown area. Nothing like that ever happened while I was living there!

Hurricane Isabel in 2003 (do you see a pattern here?) once again ripped up the area. As the hurricane made landfall in North Carolina and moved northward (later causing considerable amounts of damage way up into central Maryland where I live), much of the bulk of the hurricane was still in the Atlantic. Its counterclockwise movement brought it pretty much unchecked across the lower Chesapeake bay, so that it hit areas along the James River with devastating force. The riverside community of Burwell's Bay simply disappeared. Trees were down in just about every single yard, and my parents lost all but the last two of the original cedars.

I did my undergraduate work at Duke University, Durham, North Carolina, with a double major in electrical engineering and physics. Duke's a great place for undergraduates (I admit Durham can be a bit dull for the graduate crowd), and can make a college basketball fan out of even a hardcore geek like me. Go Blue Devils (only applies to basketball, of course). I was an early member of the Duke Chapel Choral Vespers group directed by Donna Sparks, which helped shape my love and appreciation for Renaissance and Baroque choral music (see below). In spite of my participation in choral groups all over the country, including such notable ones as the Baltimore Symphony Chorus, Duke Vespers ever remains my favorite.

I got my Master's degree from Stanford University, department of electrical engineering, Information Systems Laboratory (ISL). Truly one of the greatest institutions of the face of the Earth. A Master's degree from Stanford EE is a free ticket to Silicon Valley. Which may make you wonder what I'm doing here in Maryland.

My wife, Linglan, received her Ph.D. from the computer science department at the University of Maryland, Baltimore County. Linglan is from Nanjing, China. If you want to know more, then you might as well go look at her home page.

I was a senior staff engineer at the Johns Hopkins University Applied Physics Laboratory in the Space Department, Space Instrumentation Group (SRI), from November 16, 1998 to June 4, 2004. From there, I could maintain ties to the ECE department at JHU and the Adaptive Microsystems Laboratory.



My main research interest at APL was in Analog VLSI adaptive systems, though I also dabbled in optics, acoustics, field-programmable array architectures, and MEMS.

In 2002, I started working part-time for MultiGiG, Inc., then in Wellingborough, England. In 2003, they moved from England to the vicinity of Santa Cruz, California. In May, 2004, I accepted an offer to work for them full-time, continuing my development of open-source software tools for electronic design automation, but also ramping up work on circuit theory, invention, and design.
I'm tired of getting emails and calls from corporate head-hunters who don't really know squat about what I do, but for those who have made it this far, I've hidden my resume in "resume.html". I don't really need a resume, so there's no longer even a convenient link to it.
At home I keep busy with art and music (piano/synthesizer and vocal/choral). I like art in all kinds of media. Pencil is my favorite for doodling in the margins of my notebooks. I have an extensive portfolio of works done in ink pen (see above), primarily for the Smithfield Calendar, and a much smaller portfolio of oil paintings (see the pictures directory).
List of favorites:
Favorite composers of orchestral music (and works):

Aram Khachaturian (Gayne Ballet, Spartacus)
Nikolai Rimsky-Korsakov (Sheherazade, Russian Easter Overture)
Igor Stravinsky (Firebird)

Favorite composers of organ music (and works):

Olivier Messiain (Apparition de l'Eglise Eternelle)
Charles-Marie Widor (Toccatta from Symphony V)

Favorite composers of choral music:

Maurice Duruflé (Quatre Motets, Requiem)
William Byrd (various)
Tomas Luis da Vittoria (various)
Orlando Gibbons (various)
Giovanni Perluigi da Palestrina (various)

Favorite rock groups:

Tears for Fears
Depeche Mode
Alphaville
A-Ha

Favorite restaurants:

Michael's Noodles, Travilah Square Center, Potomac, MD
A recent addition to the finest area restaurants. The noodles, as you might guess, are superb, as is just about everything else.
Dragon Chinese Restaurant, Festival Shopping Center, Muddy Branch Road, Gaithersburg, MD
Northern-Chinese Dian Xin (Dim Sum) offerings, very heavy on the dough but top-notch and very tasty. A lot of the offerings can't be found elsewhere.
China Star, Contour Road (off Lost Knife, behind Lakeforest Mall), Gaithersburg, MD
Offerings from western China, such as Xi'an and Guanxi provinces, not to be found anywhere else in the area. The cold noodles are the best!
Peking Village, Gallows Road, Fairfax, VA
Ignore the name. This place has the best, hottest, and most authentic Sichuan food in the United States.
Joe's Noodle House, Rockville Pike, Rockville, MD
Recently changed management and it's Chinese name, which now refers to a mountain in Sichuan known for its monkeys. This restaurant's Sichuan fare is competitive with Peking Village but it's a lot closer to us.
Peking Eastern House, Frederick Road, Gaithersburg, MD
(Recently closed at this location, and expected to reopen elsewhere, although I don't yet know where) Northern Chinese Dian Xin (Dim Sum) in the Muslim style; lamb stews, homemade noodle soups, and fish dumplings steamed on a bed of pine needles.
Pho 75, Frederick Road, Gaithersburg, MD
Vietnamese Beef Noodle Soup restaurant serving variations on one dish. Excellent Vietnamese coffee.
A & J, Rockville Pike, Rockville, MD
Northern style Dian Xin dishes and homemade noodle soups.
Mango Cafe, University Ave., Palo Alto, CA
Caribbean food; excellent tropical fruit drinks served in an oversize snifter (last time I was in Palo Alto I had difficulty finding it; fortunately, it only moved a short distance, and I believe it's now on Hamilton Ave.).
José's, El Camino Real, Palo Alto, CA
Tasty Cuban cuisine
Purim Oak, York Road, Towson, MD
Korean restaurant serving a delicious Dolshot Bi Bim Bab served sizzling in a clay pot.
(also see Linglan's compilation of Good Food in Montgomery County [Maryland])

Favorite food:

Dark Chocolate
White Chocolate
Milk Chocolate
Ben & Jerry's White Russian ice cream

Favorite fiction:

Catch-22 (Joseph Heller)
Atlas Shrugged (Ayn Rand) (ignoring the 50-page tretise on egoism at the end)
To Kill a Mockingbird (Harper Lee)
On the Beach (Nevil Shute)

Favorite nonfiction:

Gödel, Escher, Bach: An Eternal Golden Braid ( Douglas R. Hofstadter)
Surely You Must Be Joking, Mr. Feynmann (Richard Feynmann and Ralph Leighton) (nonfiction but rather apocryphal)
Consciousness Explained ( Daniel Dennett) (also awarded Most Audacious Title)
At Home in the Universe ( Stuart Kauffman)

Favorite science fiction:

Snow Crash (Neal Stephenson)
The Hyperion quartology (Dan Simmons)
The The Hitchhiker's Guide to the Galaxy trilogy in four (or was it five?) parts (the late, great Douglas Adams)

Favorite esoteric bumper stickers:

``Visualize Whirled Peas''
``STOP Continental Drift''
``Doing my part to piss off the religious right''
``If you're not part of the SOLUTION then you're part of the PRECIPITATE''
``There are 10 kinds of people in the world: Those who understand binary and those who don't''

| | | |
| --- | --- | --- |
| | email: | |
Last updated: April 9, 2012 at 2:20pm